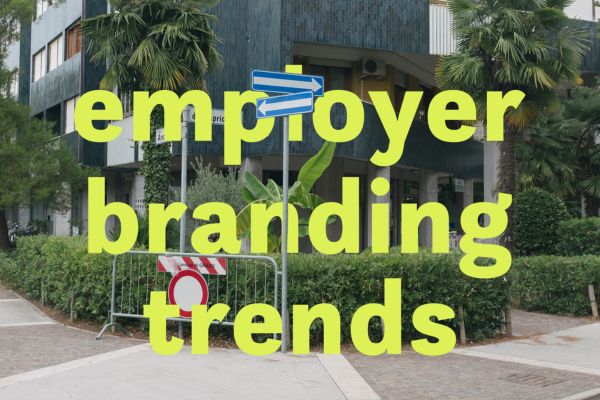 Employer Branding Trends 2023 - Well Prepared in the War for Talents
About one in two employees worldwide is unhappy in their job. Whoa. That's a hard one to swallow, isn't it? And no, we didnt make that up. It's what a survey by Great Place to Work revealed. Meaningfulness, opportunities for innovation, psychological safety, as well as leadership and fairness all contribute to a positive employee experience. Unfortunately, these topics often fall short in the workplace. The result: A large percentage of employees find their work meaningful and significant.
So there's a lot to do! If you want to win the War for Talent, you have to break new ground. In this article, we'll introduce you to the latest employer branding trends. Let them inspire you and use them to form a future-oriented strategy for your company.
What is Employer Branding?
But before we get down to business, let's take a brief look at the basics. An employer brand is crucial for finding and retaining employees, positively increasing employee engagement and being perceived as a credible employer. Employer branding therefore includes all measures to strengthen the brand.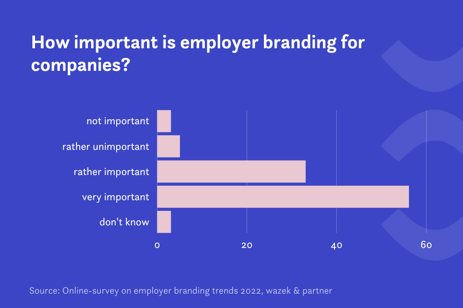 When we first think of an employer brand, it's always the external impact of the brand that comes to mind. However, it also has a significant impact on the inside. In other words, employer branding always works in two directions:
External: This includes all measures taken outside of the company, e.g. recruiting.

Internal: These are measures that are implemented within the company, e.g. brand-focused onboarding.
Trend #1: Building an Authentic Employer Brand
Being authentic... sounds simple, doesn't it? But many companies find it quite difficult. Yet it pays to show authenticity. Successful companies set an example and attract top talent for the long term. One employer brand that is already doing its job brilliantly is Almdudler.


First step in building an authentic employer brand: Involve the staff and engage in an open conversation. Tell real stories about your daily work, the team spirit and the culture and values of the company. This is possible even with a small budget ;)
Trend #2: Social Recruiting in the Right Places
The big challenge with social media recruiting is choosing the right channel and pushing out the right content to the target audience you want to reach. Although LinkedIn is widely regarded as the business network par excellence, many professions won't be found here.
The Zeman Group has recognized this correctly and exclusively uses Facebook and Instagram as recruiting channels. The posts and ads that are played out show that technicians are getting to work here and that there is great teamwork.
Employee-generated content (EGC) - content created by staff, such as photos, videos or social media posts - is also used to further increase brand awareness. EGC helps present corporate culture directly from the employee perspective.
Trend #3: Simple Application Processes
Wer Employer Branding am Puls der Zeit will, muss auch digital am Ball bleiben. Mobile Recruiting Funnels und 1-Click-Bewerbungen sind zwei verwandte Konzepte, die Unternehmen zunehmend einsetzen, um Top-Talente anzuziehen:
Mobile Recruiting Funnel:
The mobile recruiting funnel is a purposefully set up process that candidates go through when applying for a job via their mobile phone. To make this funnel application process seamless, steps such as creating an account or uploading a CV are optimized for mobile devices and kept as simple as possible.


1-Click-Applications:
As the name implies, with 1-click applications, job seekers apply for a job in just one click. Instead of using lengthy forms, the application is made using the social media profile or data already created in advance. The declared aim of the 1-click application is to be fast, user-friendly and barrier-free.
For many years, marketing has been about constantly getting to know the target group better in order to reach them even better. This credo also applies to employer branding. And to do this, you're welcome to experiment a bit and deviate from the tried-and-true path of classic job advertisements and letters of motivation.
Trend #4: Candidate Experience
Employer Branding is what you think you know about your company. The candidate experience is what others seem to know about your company. Both influence the employer brand.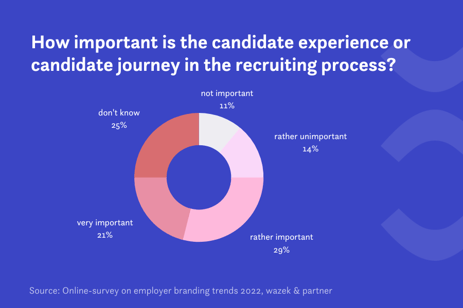 When choosing a future job, the reputation of a brand is a key factor. People often come into contact with a company long before they apply for a job - either as customers or as acquaintances of employees. Therefore, the candidate experience does not start at the moment when the job advertisement is viewed, but already at the first point of contact with the employer brand.
You can definitely show pioneering qualities here, because many companies still lack an understanding of the candidate experience (see graph).
Trend #5: Active Sourcing
With a combination of employer branding and active sourcing, you'll keep pace with the ongoing shift from employer market to employee market.
Today, job seekers want companies to proactively draw attention to themselves by offering suitable positions. However, this requires new communication formats.
For example, the team looking for employees introduces itself directly in audiovisual formats and provides insights into its work area and personal interaction. The human touch makes the crucial difference here, and with properly placed content and emotions, any brand has been successful.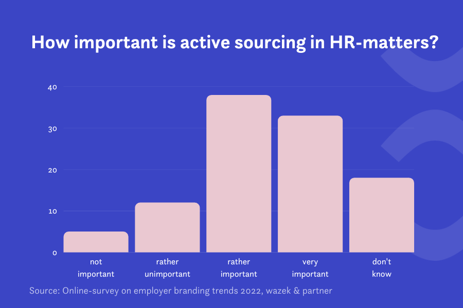 Trend #6: On the Path to Success via Reportings
Employer branding needs reporting to measure the effectiveness of your efforts and ultimately get budgets and resources. Analyze data to uncover trends, strengths, weaknesses, and areas for improvement:
Employer Brand Awareness: Keep an eye on the number of impressions, follows and engagements on your social media channels and employer review portals. Observe changes, draw meaningful conclusions and experiment a bit with your content.

Quality of Candidates: Compare the percentage of candidates who meet the job requirements to those who are ultimately hired. This can provide you with important insights, such as whether you are targeting the right people with your measures, or whether the channels you have chosen are suitable for recruiting your target group.

Track applications: Keep a record of how many applications you receive per job posting. For a detailed analysis, also categorize the submitted applications according to the transmission method, such as cell phone or PC.

Time until position is filled: Determine the time required to fill a position - from the day the job is advertised to the day the candidate is finally accepted. You will find that there are clear time suckers for which there are certainly suitable optimization measures.

Employee engagement: Evaluate the percentage of engaged workers through employee surveys and regular performance reviews, as well as the percentage who are likely to recommend your company as an attractive place to work.
Trend #7: Sustainable Relationship Management
According to forecasts by Statista, revenue in the Customer Relationship Management software market is projected to reach US$285.60m in 2023 and expected to show an annual growth rate of 8.33%, resulting in a market volume of US $426.00m by 2028. So it's clear: CRM has come to stay.
Here's some food for thought on smoothly building as well as maintaining relationships with potential candidates:
Humanizing automations:
When automating your communication, make sure it doesn't look like it was created by a robot. Speak the language of your employer brand. For example, like we do at Contentfish when we warmly shake fins with a new team member on their first day or look for the great catch in the vast ocean of HubSpot developers.

Personalizing according to the brand:
Personalize your communication by setting automated parameters for addressing your contacts in e-mails, e.g. first or last name, "you" or "you're" form of address, and placeholders for the position you are looking for.
Recruit even before the job posting:
Engage potential candidates early on - preferably when they don't even know they'll be applying for a job with you. Get them excited about your company by keeping them up to date on news or key milestones, inviting them to company events, or offering referral programs.
Conclusion: Employer Branding and Dating have a Lot in Common
Current employer branding trends highlight one thing above all: The days of the classic application process are over. Today, companies are actively searching for suitable talent and, much like people looking for love on dating sites, are proactively, openly and honestly introducing themselves to potential candidates.
You're still not tired of employer branding? Book a 15-minute keynote speech with me and get even more insights on building a successful employer brand.