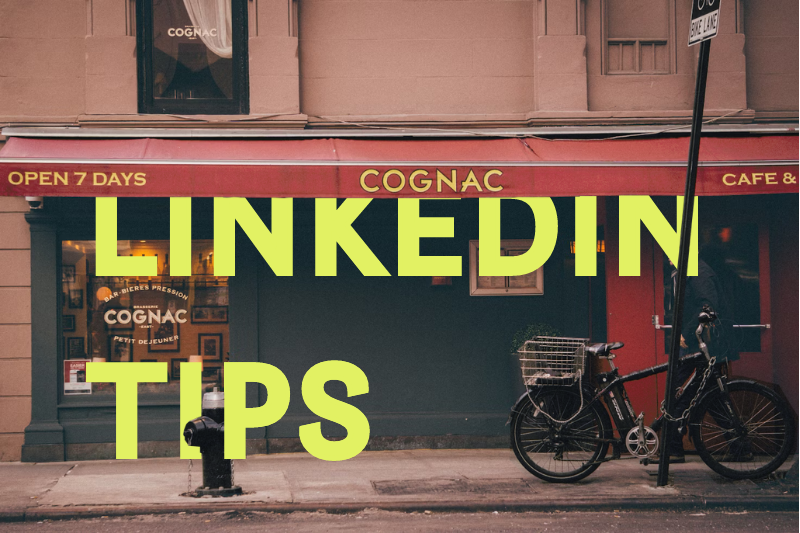 Get your LinkedIn off to a Great Start in 2023
LinkedIn is an integral part of social media marketing and will continue being a major point of contact for digital B2B communication. So far, the platform has successfully established itself as a romping place for job contacts with 875 million users worldwide- about 19 million of them in the DACH region- and the network is continually growing.
With these impressive numbers, LinkedIn is constantly required to adapt to new technologies and user behavior. On the other hand, the users themselves must consider ever-changing guidelines and requirements, and, in turn, adapt their content strategy accordingly.
But which requirements are there in the first place? What trends in content marketing can we expect? And how do you use LinkedIn to your advantage in 2023? These are precisely the questions we'll be addressing in this blogpost. In addition, you'll learn how to use LinkedIn ideally for your professional goals.
It's a Match: Finding and being found on LinkedIn
The mix of company and personal profiles is clearly one of the platform's strengths. For individuals, LinkedIn is an excellent place to cultivate contacts and find new job opportunities. However, more than 55 million companies also use the platform regularly and thus make a significant contribution to its popularity. The following key figures show this very impressively:
On average, 101 applications per second are handed in on LinkedIn

Every minute, 8 people are hired through LinkedIn

Every week, about 52 million people look for a new job on LinkedIn

In total, there are about 15 million job ads on LinkedIn for jobs in almost every industry and position.
For professional purposes in particular, LinkedIn is the ideal platform with a wide range of opportunities. But how can you best use these opportunities to your advantage? Your motto should be: Stand out from the crowd. With original content and the right strategy, you can attract more attention from your target group. Whether you're an individual looking for an employer or a company trying to find experienced experts and young talents. You'll learn how to achieve that in the next paragraph.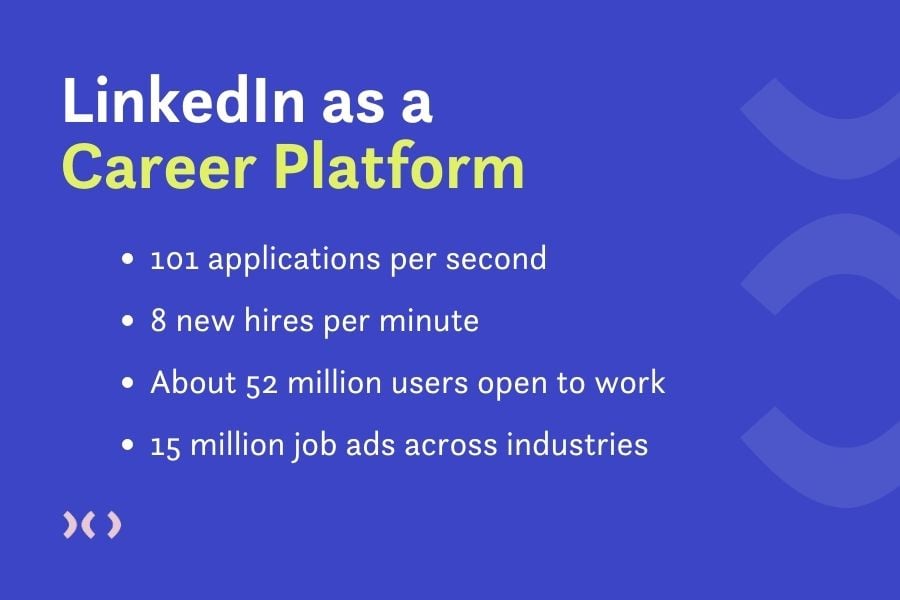 Image: Facts and Figures about LinkedIn as a career platform
Networking: A Matter of Good Planning
What goals do people or companies pursue when they use social media platforms? Correct: They want to generate visibility and reach. To balance both, an adequate network is crucial. With the right people around you, as well as structured content, you'll tap into a promising source of lucrative assignments or new job opportunities. Our 10 tips below are the key to successful social selling.
Create your own content rather than sharing other's

Feed the algorithm
Tip #1: Create your own Content instead of Sharing Other's
Of course, it's easy to share some content real quick. But look at it this way: If you re-share a post that has already been shared, you only have 50 percent of its original reach left. With your own content, on the other hand, you can take it all. You're drawing attention to yourself instead of directing it away from you.
If you still want to share exciting content with your network, do it properly: Posting without a comment is a no-go. Instead, pull out key messages from the original source and post them as a separate text post.
Tip #2: Feed the Algorithm
The algorithm loves when people stay on the platform as long as possible. This way, it can collect lots of data and later connect suitable jobs with job seekers and vice versa. So don't just keep your personal profile up to date, but also provide your network with current information and diligent interaction. Whether it's statistics, latest findings or events - refer to current topics as much as possible.
Tip #3: Show your Personality
Personal content reaches more people than rigid facts. Engage your network with insights, stories, and emotions. Who are you? Who works in your company? What are you passionate about? With simple statements and a direct approach, you generate reach and leave a lasting impression in the minds of your network.
Tip #4: Try and choose the Right Format
Try out different formats and see which ones generate the desired interaction with your network. Launch polls, post an informative slideshow, or take a short quiz. When creating your content, make sure to keep the ideal dimensions in mind. Portrait formats and orientations that are easy to read on a smartphone work best.
Tip #5: Schedule your LinkedIn-Time
Everything takes time. This also applies to social media presence. Schedule slots for your time on LinkedIn. It happens to all of us: Your work day passes and other things were more important than posting on LinkedIn. With set interaction times, nothing will get in the way. Your network will thank you with more reach.
Tip #6: Post Content with a Strategy
Planning and time play an important role in content creation. As a rule of thumb, plan at least one hour per week for the creation of articles and stick to previously defined guidelines. Generally speaking, the content determines the format. Ideal posts include videos and/or images and have a word count of between 50 and 150.
Tip #7: Evaluate and Analyze
Take time to evaluate your content and check the stats of your posts under your activities and in the dashboard of your profile. This way, you can quickly see what kind of content performs best and what you should focus on in the future.
Also, check out the Social Selling Index (SSI). This handy LinkedIn tool shows how well you're positioned on the platform compared to your industry and network. It also gives you an indication of the areas you can improve in.
Tip #8: Connect via Groups
On LinkedIn, there is a separate group for almost every topic- and that's a good thing! Industry-specific groups are an excellent way to exchange ideas with like-minded people. Join groups and network easily with people who share similar interests and values.
Tip #9: Activate Creator Mode
LinkedIn Creator Mode doesn't ring a bell? Then it's about time! With this practical profile setting, you can maximize your reach step by step. When activated, additional tools and functions are available to you on LinkedIn. For example, you can start a live broadcast, create audio events, or send newsletters.
Tip #10: Use the Invitation Manager
The Invitation Manager offers practical functions as well. Use it to manage your invitations or to go through contact requests. My recommendation: Reply to requests without an invitation text with a short, personal message. This gives the interaction with your new contact a personal touch right from the start.
Conclusion: Digital Networking On LinkedIn pays off… And it's Fun!
LinkedIn marketing is fun and really pays off. Surround yourself with a like-minded community, share your knowledge and exciting content, and meet new, interesting people along the way. With our 10 tips, you'll be off to a great start on LinkedIn. If you need support, we're happy to help! Whether it's working out a strategy, planning or content creation - we'll support you on your way to successful social selling.
Schedule an initial meeting with Katharina now and find out more about your opportunities.
Looking for a professional Content Marketing Agency?
Schedule a personal meeting with Katharina now!
Book Meeting